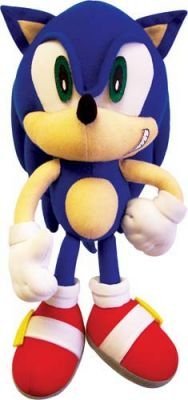 Modern Sonic or Sonic the Hedgehog is the counterpart cousin of Sonic
Appearance
Edit
Modern Sonic's appearance is bacisally a GE Animation Sonic X Plush of Sonic that's either "8" or "9" based on the one, Reece Quansah bought.
Personality
Edit
In SonicWhacker55, Modern Sonic has a different personality to Sonic. He is more kind, loyal, honest and a responsible man than Sonic is and he doesn't even tends to be mean, bossy or even jealous. He is even more of a kind and generous person than Sonic is and helps people whenever they need it like when Cream couldn't open a pack of biscuits and when Amy was drowning in the water. Whenever he's in Sonic's house, people seem to like him more than Sonic. Sonic even has to admit to himself, he isn't any of those things all the way.
Relationships
Edit
Sonic The Hedgehog
Edit
Sonic and Modern Sonic are both cousins and do have a good relationship, but until when people liked Modern Sonic more than Sonic, Sonic instead hated Modern Sonic. There are even other things to tell you that Sonic hates Modern Sonic, like when Modern Sonic got a letter from Sonic saying that he hates him. Modern Sonic is nice to Sonic, but Sonic hates him still and whenever he would be here Sonic would get jealous and upset.
Community content is available under
CC-BY-SA
unless otherwise noted.